Acid Reflux Drugs: Side Effects?
Acid reflux drugs, are they good for you? They are third highest-selling class of drugs worldwide. Very effective and therefore extremely popular in both patients who take them, as well as doctors who prescribe them.  When used for a short period, they hardly cause any side effects. 
However, if you take acid reflux drugs for months or even for years they can have important downsides.  The Food an Drug Administration has sent out multiple warnings regarding long-term use and high doses of acid suppressing medication such as Proton Pump Inhibitors.
So if you depend on acid blockers to get through your day, you should know that they are not without any risk.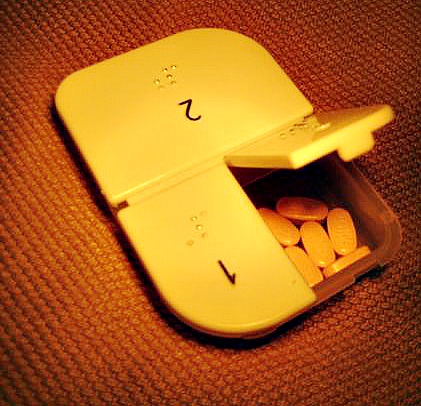 Acid Reflux Drugs Side effects
PPI's (Nexium, omeprazole, esomeprazole, lanzoprazole) and H2 receptor blockers (ranitidine, famotidine, cimetidine, nizatidine, zantac) both work in a different way, but have the same result: they suppress the production of stomach acid.  

Side effects count for both types of acid reflux drugs:
Acid Reflux Drugs Are Addictive
Once you are on acid blockers, they are hard to get off.  Chances are high that you end up taking them for the rest of your life. It is much easier to take a pill than to follow an acid reflux diet with less coffee, chocolate, gluten or other foods that trigger acid reflux.  
Acid blockers cause withdrawal symptoms if you stop taking them.  Your stomach compensates with more acid production after a period of suppression.  This 'rebound effect'  is the strongest during the first week and can last up to four weeks after you have stopped taking your medication.
Researchers tested healthy subjects and gave them Proton Pump Inhibitors for 12 weeks. Then the researchers switched their pills with placebo pills. Without knowing that their pills had been switched, they started to complain of acid reflux and heartburn. So the this side effect is real.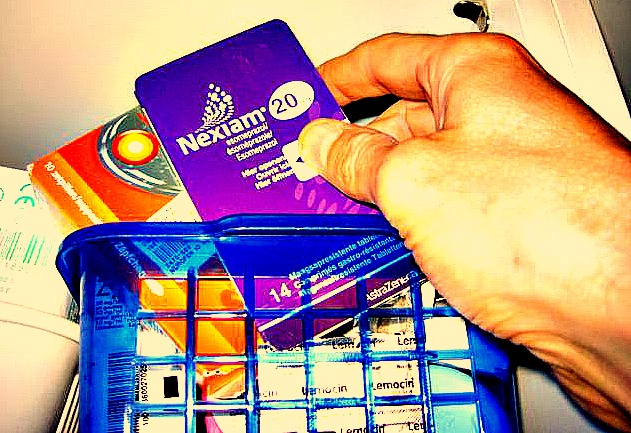 Since PPI's provoke withdrawal symptoms in healthy persons, the rebound effect is even bigger in patients who already have symptoms of acid reflux.
The majority of people starts with Zantac or Nexiam without being aware the addicting effect. 

Should You Avoid Acid Reflux Medication?
That's a good question with no clear answer.   Acid reflux medication should never be the first step to stop acid reflux.  Better is to treat the root cause by changing your lifestyle. More movement, less caffeine and a healthy diet should always be the first choice of treatment.
Only if an acid reflux diet doesn't help and you quit smoking, you can consider acid reflux medication.  
Arguments Pro Acid Reflux Medication
Acid reflux drugs don't seem to have a lot of side effects when you take only for a week.   If you take them for longer periods, the risks of getting PPI dependent gets higher.

If you have  Barrett's esophagus, stomach ulcers or esophageal cancer, medication becomes necessary. The benefits may outweigh the potential harms.

Studies that are performed up till now, don't have enough power to draw any definitive conclusions. Although evidence is piling up that acid suppressants can have side effects, more studies need to be done to confirm the existence of these effects.

Finding a correlation between, for example, between PPI's and bone fractures, doesn't mean that PPI's are the cause of these fractures. 

For example: people who lack enough movement, who are obese and who have unhealthy eating habits,  have an increased risk of having both weaker bones and of developing acid reflux. This group of people will likely be given PPI's and will easily break bones if they fall. Research finds a correlation between PPI's and fractures, but the cause of both problems can be found somewhere else. A lack of movement can cause both conditions.
Arguments Contra Acid Reflux Medication
Growing evidence finds a correlation between acid reflux medication and risk of bone fractures, diarrhea, pneumonia

Acid reflux medications permit you to become lazy. With the help of a little blue pill, nexium, you create an illusion. You can eat whatever you want without consequences. If you have the choice between popping a pill every 24 hours or changing your lifestyle and diet, what do you do?

If you take medication and you still complain of heartburn,  your doctor doubles your dose until you are symptom free. 

The conventional medical approach is to take acid blockers for as long as you like. That means treating symptoms instead of tackling the causes of your reflux.    

Rather than making dietary and lifestyle changes, you use pills that are addicting and potentially harmful.
Acid Reflux Surgery And Other Remedies
The emerging amount of evidence that pleads against the use of acid reflux medication, makes more and more people to consider acid reflux surgery. Acid blockers treat symptomatically by blocking acid production. The advantage of surgery is that it treats the real cause of acid reflux: a stomach valve that is too weak.
Before you run to a surgeon, you should try out my acid reflux remedies .These are a solid alternative to acid reflux medication. 
Do Your Take Medication? Did You Know The Side Effects?
Are you on acid reflux drugs? Did your doctor inform you about possible side effect? Do you find your drugs hard to get off?

Please share your story....
from acid reflux drugs to exreflux.com
Copyright © 2012 - 2019 exreflux.com.